Over the years, the Venskoske Family focus has been on agriculture. While raising our sons in Apple Country, we always enjoyed apples and the products that the apple industry had to offer.  Applesauce, apple butter, apple cider and fresh apples were always a treat. Our family has strong roots in agriculture and have always raised some sort of livestock for over 45 years while also helping to run the family farm.  We are proud to say that our love for agriculture continues today through our grandchildren.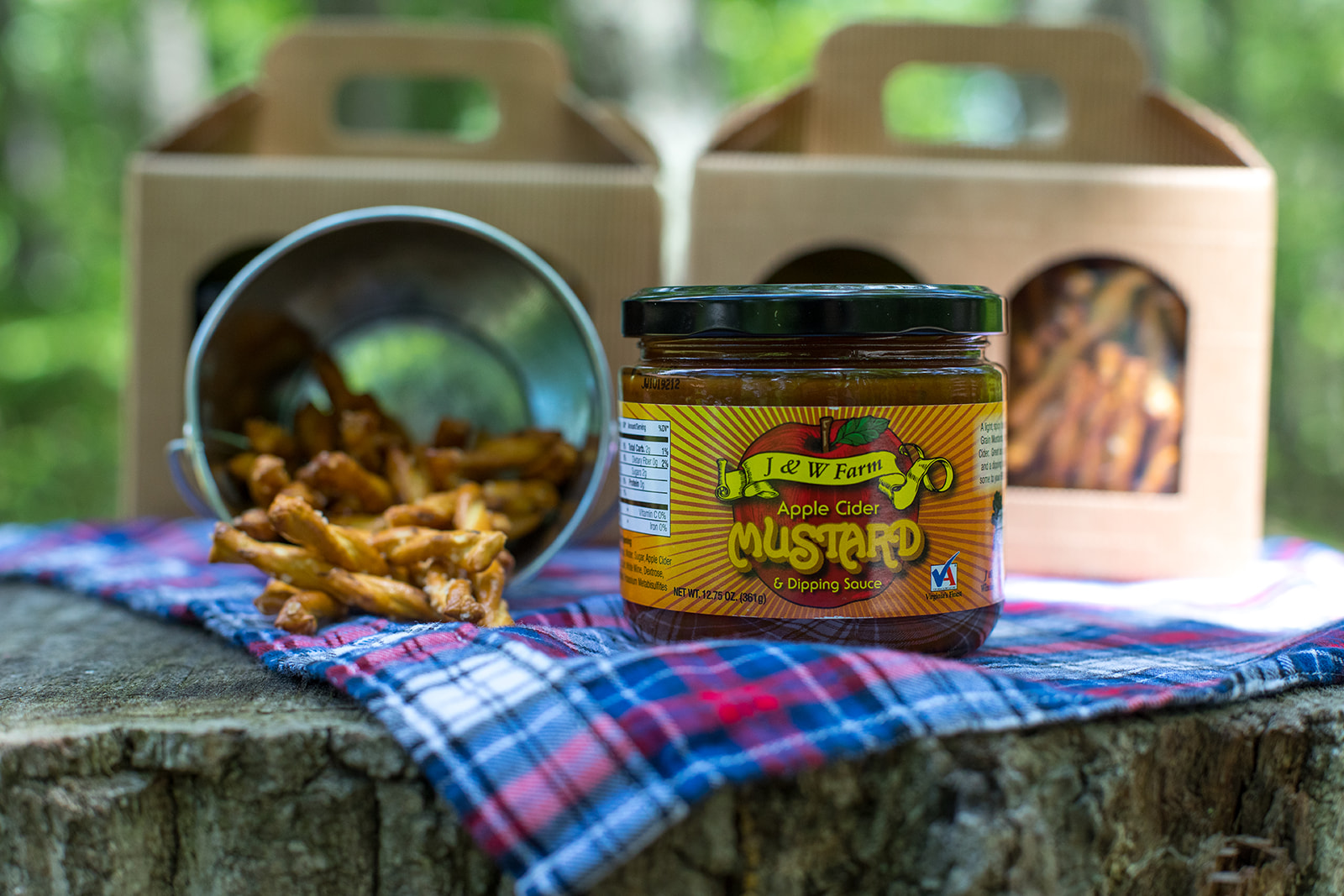 Our first products…
In 2011, John worked alongside a talented Chef at a local restaurant.  Chef Artie developed several recipes that we knew would be a great hit with local farm markets & fruit stands.  After tweaking one particular recipe, J & W Farm's Apple Cider Mustard & Dipping Sauce was born. In June 2013, we partnered with Stello Foods in PA to bottle our first product.
Our Apple Cider Syrup was developed because of our need for apple cider concentrate to use in our mustard. Using a large evaporator pan, we cook 100% all-natural locally pressed apple cider until it becomes as thick as syrup. We figure that there are about 23 apples in each 8 oz bottle.  Our Apple Cider Syrup is one of those products that you love the first time you taste it.  Folks are always thinking of more ways to use our syrup to enhance meats, vegetables and even drinks.
Gluten Free Cake Mixes
Our Gluten Free & Vegan Cake Mix presented itself quite by accident. For most of his life, John's favorite cake was his Grandma Bertha's Chocolate Crazy Cake.  In 2013, we developed a friendship with a gluten free & vegan Chef. For Chef Rebecca's birthday, John made her a Crazy Cake using a C4C gluten free flour blend. She felt that we could make the cake taste better.  After working 8 months, Chef Rebecca created a special blend of gluten free flours for a cake that taste as close to the original recipe as possible. Maybe even better!  By using this blend, she was able to help John change his Grandma's Crazy Cake recipe which was naturally vegan to a great tasting gluten free cake.  In 2014, we rolled out our first Grandma B's Gluten Free & Vegan Chocolate Crazy Cake dry mix.  Requests came in from customers wanting other flavors.  Using Grandma Bertha's spice cake recipe, we developed Grandma B's Gluten Free & Vegan Spice Crazy Cake dry mix in 2016.
Mixing
During the process of figuring out how to blend our cake mixes in small batches, we discovered that there were very few companies willing to mix small batches of flour and even fewer that were dedicated gluten free.  We visited several mills in Virginia and with the help of the Virginia Tech Food Innovations Department, we invested in the equipment needed to meet our needs.  It was soon discovered that there are many other individuals/businesses who have the same needs.  So, during our slow season, we offer co-packing of specialty dry mixes. 
Birdseed Wreaths
While working on our food products, we stumbled across an interesting recipe for a Christmas present for our family members and friends – Birdseed Wreaths.  Once our family saw how creative this gift was, they encouraged us to make and sell birdseed wreaths to local farm markets.  The following Fall, we started out by making 9 wreaths at a time in our basement. It did not take long to realized there was a very large demand for these wreaths at local Farm Markets and Gift Shops. Our Birdseed Wreaths are a very popular Christmas gift.  We have come a long way since we started selling our wreaths. In 2016, we outgrew our basement and built a production facility on our farm.  In 2019, we set a record by making 6,000 wreaths.  Most of those wreaths were made during our busy season, which runs from August 1 until December 31.  Our goal for the fourth quarter of 2020 is to make 100 wreaths a day.  In 2017, we began to give back to our Community, both locally and statewide, by offering our wreaths to groups to sell to raise funds for scholarships or to support a ministry.